114th. CONGRESS
* Special thanks to "Google Images", "Politico", and ABC News"
Scenes from the first day of the new congressional session on Jan. 6, 2015.
By

M. SCOTT MAHASKEY

House Speaker John Boehner swears in members.
POLITICO
http://www.politico.com/magazine/gallery/2015/01/the-114th-congress-begins/002131-030343.html#.VLAIHtLF8fY
BLOG POST
by Felicity Blaze Noodleman
Well it's here! The New and improved 114th. US Congress for 2015! As the new members take their oaths and seats a few stories caught our eye this week and we'll pass them on to you. As time passes the focus for the new Republican Congress will become more clear but for now the gate is up and they are off and running. We will also see the controversies between the Democratic minority and the President over the next two years.
Language to limit funding for carrying out the executive action will likely be buried in a DHS bill. | Getty

http://www.politico.com/story/2015/01/house-republicans-obama-immigration-action-114028.html#ixzz3OAOPu1wJ
House GOP Likely To Try To Nix Obama's Immigration Action
By

JAKE SHERMAN

and

SEUNG MIN KIM
Updated 1/7/15 12:02 PM EST
Speaker John Boehner and the House Republicans are planning to try to choke off President Barack Obama's immigration executive action next week, according to multiple GOP leadership aides involved in the talks.
House Majority Leader Kevin McCarthy (R-Calif.) plans to bring up a bill next week to fund the Department of Homeland Security, and embedded in the text will probably be language to limit funding for carrying out Obama's executive action, which changed the enforcement of immigration laws.
No final decisions have been made, and it's not clear what language the GOP leadership will use. But Rules Chairman Pete Sessions (R-Texas) said Wednesday that House Republicans are poised to use a measure written by Rep. Mick Mulvaney (R-S.C.) that would explicitly bar any funds — even those collected by fees — to be used to carry out Obama's immigration actions.
Funding for DHS runs through Feb. 27. That Boehner (R-Ohio) and McCarthy are acting this early shows that they want time before the deadline to bring the bill up. Obama, of course, is nearly certain to veto any bill that limits his authority. Republicans are extraordinarily unlikely to let DHS funding lapse at the end of February.
"If the president were to shut down Homeland Security to get his narrow political objectives done, then I think the president's making a big mistake," Sessions said. He waved off a potential veto threat, stressing: "We are going to stick to our plan, and we believe it is wrong what the president has done."
Republicans are also moving toward inserting language in the DHS bill to beef up border security. House Appropriations Chairman Hal Rogers (R-Ky.) said Wednesday morning that he hopes to release text of the DHS funding bill on Friday.
http://www.politico.com/story/2015/01/house-republicans-obama-immigration-action-114028.html#ixzz3OAOl2byf
Congress' New Year's Resolutions
Five simple steps for a healthier House and Senate.
By OLYMPIA SNOWE and DAN GLICKMAN
The dust has long settled on the 2014 amid-term elections. Voters spoke loud and clear. And the one and only mandate they provided is that our elected officials govern and legislate.
The appropriate tone and actions must be set from day one of the new Congress. The timeframe for legislating is all the more compressed by the oncoming 2016 presidential elections. That event should serve as an incentive for providing results and solutions.
What's required now is pivoting from messaging to legislating. We believe opening day of the 114th Congress is key in adopting the changes that are conducive to consensus-building and laying the foundation for potential cooperation. At a moment when the American electorate is so closely divided, it is even more incumbent upon Congress to develop solutions that bridge the political gulf, rather than policies that simply reflect ideological entrenchment.
There are at least five simple and realistic steps the 114th Congress could take to help Washington be more productive—and tamp down the "dys" while re-emphasizing "function." These were among the core recommendations of the Bipartisan Policy Center's Commission on Political Reform, which announced its report in June 2014:
· Institute more days in session with synchronized schedules between the House and Senate. In the last Congress, the House of Representatives averaged fewer than 147 days per year in which to legislate, and the Senate just 141—that averages to less than three days per week. Moreover, mismatched schedules for the House and Senate make the legislative process that much more difficult.
· Policies resulting in a more substantive debate in both chambers, including open amendment processes in the Senate and House. Regrettably, inhibiting the minority party's ability to have amendments considered and voted on has become all too common in the name of "protecting" members of the majority from politically challenging votes.
· A genuine, concerted attempt at reviving regular order, including empowering the committees to move legislation. Regular order would mean returning to a system of rules, mechanisms and precedents to engender vigorous deliberation with the eventual aim of reaching agreement. Every highly functional organization, both public and private, has predictable governing principles to ensure efficiency, effectiveness and success—Congress should be no different.
· Complete budget and appropriations bills on time. Congress has largely abdicated one of its most fundamental obligations: passing budgets and appropriations bills—leaving us lurching from crisis to crisis and exacerbating policy uncertainty.
· Regular congressional leadership meetings with the president. Divided control and tensions between Congress and the White House have led to high risk showdowns over matters affecting the nation's fiscal position and global reputation.
In a hopeful sign, statements that have been made by incoming-Majority Leader Mitch McConnell and Speaker John Boehner echo a number of these recommendations.
In the realm of more regular order, Senator McConnell has espoused permitting amendments from both sides, and that "Committees need to be relevant again." He has also said, "First thing I need to do is get the Senate working again. I don't think we've had a vote on Fridays in anyone's memory… [we may need to] occasionally burn the midnight oil."
The House has announced four-day workweeks—representing movement in the right direction. And in a
joint op-ed

in The Wall Street Journal, Speaker Boehner and Senator McConnell wrote, "We will restore an era in which committees in both the House and Senate…debate legislation; and where members of the minority party in both chambers are given the opportunity to participate in the process of governing."
Following the elections, the president and Republican leaders spoke of working together to identify areas of agreement. Now, it's essential these communications actually occur.
The willingness to take all of these important steps is positive and praiseworthy. Ultimately, however, success will be predicated on the readiness of the respective party caucuses to support—or at least, not obstruct—the changes their leaders have proposed.
There are a number of contentious issues with the potential to become political flashpoints in the first six months of the new Congress—including immigration, the federal budget, presidential nominees and the debt ceiling. As a consequence, enticement to jettison the common-sense, foundational actions the Leaders have pledged will be enormous.
We will be launching the "Healthy Congress Index" this month to measure the performance of the 114th Congress in three critical areas: congressional schedule, open floor proceedings, and regular order. Each of these are prerequisites for political bridge building. A truncated schedule leaves too little time for fruitful legislating as well as inter-party dialogue and discussion.
Circumventing committees and perverting the legislative process on the floor marginalizes individual members willing to formulate compromise to the detriment of good policymaking. Both parties must be committed to a fully functional government. The Healthy Congress Index will provide Americans with crucial metrics for evaluating Congress throughout the next two years and positive reinforcement for embracing the traditional norms and practices.
What is vital now is that the temptation toward excess be rejected—and that the American people reward those who do. Let's set the stage that will allow the many smart, dedicated and capable public servants in Congress to do their jobs the right way for the sake of our nation. Now that would be a Happy New Year.
Former Sen. Olympia Snowe (R-Maine) and former Agriculture Secretary and Rep. Dan Glickman (D-Kan.) co-chair the Bipartisan Policy Center's Commission on Political Reform.
http://www.politico.com/magazine/story/2015/01/congress-new-year-resolutions-114004.html#ixzz3OAYMViWz
Five Things GOP Congress Expected to Tackle in New Year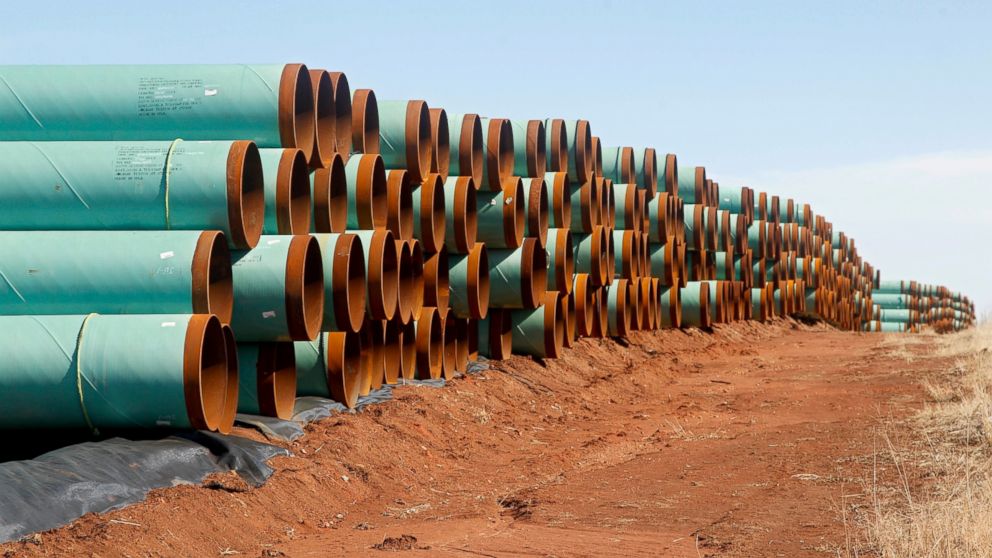 Miles of pipe ready to become part of the Keystone Pipeline are stacked in a field near Cushing, Okla.
Sue
Ogrocki
/AP Photo
New Republican majorities poised to take control of Capitol Hill this week have a to-do list that will challenge the White House during President Obama's final two years in office.
The 113th Congress adjourned Friday, concluding the second-least productive session of Congress in U.S. history in terms of the quantity of bills signed into law by the president. Just 296 measures were enacted over the past two years.
You don't have to look back too far to find the least legislative session. The 112th Congress turned in just 284 measures for President Obama to make use of his presidential pen.
Both sessions have one common attribute: divided power in Congress. To date, Obama has vetoed just two measures through his first six years in office, largely because Senate Democrats protected him from hundreds of bills that died in the Senate after Republicans seized the House in 2011 and broke up the Democratic majority.
Obama probably won't have that same luxury in the 114th Congress when Republicans are set to control both majorities on Capitol Hill. Here's a look at five items the GOP Congress is expected to tackle in the coming months, many of which are expected to face intense opposition from the White House:
1. KEYSTONE XL PIPELINE
Among the first pieces of legislation expected to be sent to the Oval Office is a bill to authorize the Keystone XL pipeline. Incoming Senate Majority Leader Mitch McConnell says it'll be the first vote in the Senate and a senior aide to House Majority Leader Kevin McCarthy says it'll be among the first items the lower chamber will consider this week. During the lame duck session of Congress, the House once again sent a bill to the Senate where a bipartisan majority fell just one vote short of clearing a procedural hurdle that would have prompted a vote requiring just a simple majority for passage.
Before heading to Hawaii for his holiday vacation, Obama downplayed the significance of the pipeline.
"There is very little impact, nominal impact, on U.S. gas prices, what the average American consumer cares about, by having this pipeline come through," Obama said during his year-end news conference on Dec. 19. "I've just tried to give this perspective because I think that there's been this tendency to really hype this thing as some magic formula and -- to what ails the U.S. economy. And it's hard to see on paper where exactly they're getting that information from."
2. EXECUTIVE AMNESTY
Now that Republican reinforcements are about to be sworn into office, the GOP is expected to quickly draw up a response to the president's executive actions regarding immigration reform. A senior House GOP leadership aide says the House could move on a legislative remedy before Senate and House Republicans are scheduled to hold a joint retreat in Hershey, Pennsylvania, on Jan. 15-16.
Current funding for the Department of Homeland Security, which oversees immigration enforcement, runs out Feb. 27.
3. REPEAL OBAMACARE
House Republicans chipped away at the president's health care law over the past four years, but without enough troops in the Senate, didn't have support to send repeal legislation to the president. GOP majorities might be able to do that, but it seems unlikely they'll get enough support to override an inevitable Obama veto.
Still, when incoming House Budget Chairman Tom Price releases his first budget blueprint in the spring, Republicans are once again expected to strip out funding for the Affordable Care Act. It remains to be seen whether they'll be prepared to offer replacement legislation.
4. INSURING SUPER BOWL AGAINST TERRORISM
Following the Sept. 11, 2001 terrorists attacks, Congress enacted a temporary terrorism risk insurance program, known as TRIA, for three years in which the federal government would share the losses from future terrorist attacks. Some of the businesses aided by the program include professional sports organizations, like the National Football League, which need to have coverage for the stadiums and arenas where their teams play. The program has been extended twice already.
The Senate passed its own bipartisan bill to reauthorize TRIA in the summer while the House passed a different measure last month that funded the program for six years. But that measure included a provision that rolled back some limits placed on Wall Street banks in the Dodd-Frank reform bill, derailing its chances in the Senate.
The program expired at the end of 2014, raising questions about the fate of some professional sporting events like the Super Bowl, although a NFL spokesman insisted the Super Bowl will still be played.
The statutory debt ceiling, which limits the amount of borrowing authority for the U.S. government is set expire on March 15, although the Treasury Department will likely buy the president a couple of months by taking "extraordinary measures" to prioritize payments on the country's debt obligations, further delaying this debate until summer.
When Republicans first took control of the House in 2011, House Speaker John Boehner demanded $1 in spending reductions for every dollar the debt limit was increased. But with the annual deficit at its lowest level since Obama took office in 2009, Congress hit a stalemate and resorted to suspending the debt limit for fixed periods of time. Now that Republicans will have majority control over both chambers, will conservatives take a more confrontational position and again demand spending cuts before they "raise the debt roof," so to speak?
ABC News' Arlette Saenz contributed to this report
http://abcnews.go.com/Politics/things-gop-congress-expected-tackle-year/story?id=27968708
Jay Leno To Headline GOP Retreat
By

BURGESS EVERETT

and

JAKE SHERMAN
Congressional Republicans are promising to govern Washington in a serious and responsible manner, but the first joint House and Senate GOP retreat in a decade will still have a dose of humor: Jay Leno.
The former "Tonight Show" host will focus his remarks to GOP lawmakers on veterans and military families, joining former British Prime Minister Tony Blair at the joint meeting in Hershey, Pennsylvania, next week.
While the House and Senate are on the same page moving the Keystone XL pipeline this month, many of the most challenging legislative landmines lie ahead. Discussions at the retreat will revolve around three major policy areas: immigration reform and border security, the budget and health care — including using the budget reconciliation process to skirt Democratic filibusters in the Senate and send bills to President Barack Obama with only a simple majority. There will also be a broader discussion about jobs and the economy.
Also speaking to Republicans will be American Enterprise Institute President Arthur Brooks, Wall Street Journal columnist Peggy Noonan and Aspen Institute President Walter Isaacson, according to an itinerary sent to members on Wednesday morning. The retreat will take place next Thursday and Friday.
House Republican Conference Chairwoman Cathy McMorris Rodgers (R-Wash.) said the decision to repair to Pennsylvania for two days as Republicans assume control of both chambers for the first time in eight years "will provide a unique opportunity to chart a path forward for Americans in every corner of this country." She pushed hard to schedule the retreat.
"We have the chance to get a lot done for the American people over the next two years, and the more we can coordinate our efforts the better," said South Dakota Sen. John Thune, the No. 3 Senate Republican and leading voice urging House and Senate leaders to collaborate on their legislating schedule.
http://www.politico.com/story/2015/01/jay-leno-to-headline-gop-retreat-114023.html#ixzz3OAQbq1a6
That's all for this week and we will see you next time at the "Noodleman Group; Felicity!
http://legalinsurrection.com/2014/11/branco-cartoon-a-new-beginning/
Tell your friends and associates about us!
It's easy! Just copy and paste me into your email!
* "The Noodleman Group" is pleased to announce that we are now carrying a link to the "USA Today" news site.We installed the "widget/gadget" August 20, and it will be carried as a regular feature on our site.Now you can read"Noodleman" and then check in to "USA Today" for all the up to date News, Weather, Sports and more!Just scroll all the way down to the bottom of our site and hit the "USA Today" hyperlinks.Enjoy!