WORTH HAVING
(And Future Design Concept Cell Phones)
"THE SCROLL" Futureistic concept phone. This designs folds open to reveal a traditional "hand set" which may be pulled apart for a larger screen and host of other features.
http://www.designyourway.net/blog/inspiration/37-cool-cell-phone-concepts-you-would-want-to-have/
* Special thanks to "Google Images", "Radioshack.com", "Bestbuy.com",
"http://www.gsmarena.com/makers.php3", and "
http://www.hongkiat.com/blog/30-futuristic-phones-we-wish-were-real/"
BLOG POST
by Felicity Blaze Noodleman
So you have just purchased the latest, most up to date cell phone on the market. The cell phone which satisfies all of your needs and then some. The model that gives you the bragging rights and gives you the edge over all the others! But wait; is it really all that and a bag of chips too? Has it really got all the bells and whistles. We know that no company is building that phone as of yet! Not Apple nor any other company. That's a fact!
The list of mobile phone manufactures is quite long with a wide variety of models to choose from, or is it. Most brands are a "knock off" of some other companies which meet most of the specifications for the service provider. Consequently; the bragging rights really belong to the cell phone manufacturers and service providers. They are bragging all they way to the bank and Wall St. Below is a list of mobile phone providers from:
http://www.gsmarena.com/makers.php3
:
(Don't forget the "Obama Phone.)
DISCLAIMER:
We should also mention up front that this article is in no way an advertisement for any of the phones and accessory's contained on the "Noodleman Group". We are an "advertising free zone" and hope to keep that way!
All Mobile Phone Brands
Acer phones (71)
Alcatel phones (290)
Allview phones (44)
Amazon phones (11)
Amoi phones (47)
Apple phones (24)
Archos phones (18)
Asus phones (77)
AT&T phones (4)
Benefon phones (9)
BenQ phones (32)
BenQ-Siemens phones (27)
Bird phones (61)
BlackBerry phones (79)
BLU phones (115)
Bosch phones (10)
Casio phones (5)
Cat phones (4)
Celkon phones (198)
Chea phones (12)
Dell phones (18)
Emporia phones (15)
Ericsson phones (40)
Eten phones (22)
Fujitsu Siemens phones (2)
Garmin-Asus phones (5)
Gigabyte phones (54)
Gionee phones (21)
Haier phones (51)
HP phones (32)
HTC phones (194)
Huawei phones (154)
i-mate phones (34)
i-mobile phones (37)
Icemobile phones (53)
Innostream phones (18)
iNQ phones (5)
Jolla phones (1)
Karbonn phones (57)
Kyocera phones (20)
Lava phones (30)
Lenovo phones (81)
LG phones (513)
Maxon phones (31)
Maxwest phones (20)
Meizu phones (5)
Micromax phones (172)
Microsoft phones (6)
Mitac phones (12)
Mitsubishi phones (25)
Modu phones (8)
Motorola phones (405)
MWg phones (5)
NEC phones (73)
Neonode phones (3)
NIU phones (19)
Nokia phones (430)
Nvidia phones (2)
O2 phones (45)
OnePlus phones (1)
Oppo phones (20)
Orange phones (18)
Palm phones (16)
Panasonic phones (58)
Pantech phones (72)
Parla phones (7)
Philips phones (217)
Plum phones (68)
Prestigio phones (53)
Qtek phones (21)
Sagem phones (120)
Samsung phones (979)
Sendo phones (19)
Sewon phones (25)
Sharp phones (41)
Siemens phones (94)
Sonim phones (11)
Sony phones (79)
Sony Ericsson phones (188)
Spice phones (101)
T-Mobile phones (52)
Tel.Me. phones (7)
Telit phones (30)
Thuraya phones (1)
Toshiba phones (35)
Unnecto phones (15)
Vertu phones (15)
verykool phones (75)
VK Mobile phones (31)
Vodafone phones (63)
Wiko phones (2)
WND phones (5)
XCute phones (4)
Xiaomi phones (11)
XOLO phones (53)
Yezz phones (47)
ZTE phones (133)
From the above list our eyes were drawn by the "CAT" phone, but all in all these phones are today's basic cell phones with only a few differences and not a one with a "Quantum" leap into the future!
In the world of cellular phone manufacturing the models being offered are a little like buying an automobile without all the vital parts needed to make it operate properly. something like an old hand cranked "Model T Ford", for example. Believe it or not this old automobile was more reliable than today's cell phones are!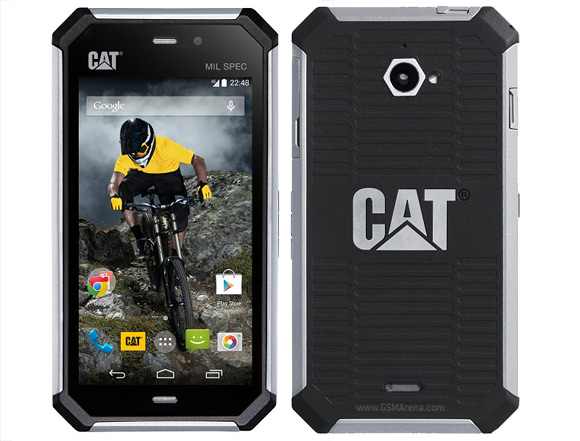 HOT CHRISTMAS GIFT IDEA FOR THE MAN IN YOUR LIFE:
See specifications @ http://www.gsmarena.com/cat_s50-6664.php
With Internet very slow internet speeds and the constant recharging needed for batteries even the most advanced up to date mobile phones are in need of some serious new designs and enhancements. Maybe they need upgrading from "4G" to "64G"! Consequently the mobile phones of today are creating a rich market for accessorization for the discerning individuals who want to make their top of the line and the most advanced software more, shall we say more complete! (
Yea, right - as if. But we'll review them any way!
)
For this task we have selected two web sires for you to visit:
Radioshack
http://www.radioshack.com
and
Best Buy
http://www.bestbuy.com/.
We must tell you before you begin, get ready to do some digging since neither one of these companies are selling the cell phone of the future which we are looking for! Other wise just use the powerful Google search engine to look for a product which you may feel is being made.
The best tips we have for this task is: (1) Find the item you are looking for on line, it may take some time and copy the nomenclature. (2) Once you have the information on the item you are interested in purchasing, go to the store and ask to see the accessories you've found on line. Store sales representative should be able to answer any questions you may have. This two step process could save you a lot of time and trouble, especially if you buy on line and find once you have received the accessory that it is not wanted at all!
Really hot tip: For years if not decades, Radioshack has been a highly reliable source for battery replacement of all kinds. You name it and they probably have it - and we mean for anything!
Hand-powered backup battery pack with 2000mAh lithium battery Make your own power:
For everyday or emergency use, this backup battery pack with hand turbine power generator will keep you all charged up and connected. It features a rechargeable 2000mAh lithium battery for power when and where you need it.
Double duty:
The BoostTurbine 2000 features a Micro-USB DC input to use with most smartphone chargers and a standard USB port for charging mobile devices. And when the BoostTurbine 2000 is all charged up, you have enough power to fully charge most smartphones. (Black)
http://www.cabelas.com/product/et-n-BoostTurbine-Hand-Powered-Battery-Charger/1440607.uts?productVariantId=3367755&srccode=cii_17588969&cpncode=32-404116235-2&WT.tsrc=CSE&WT.mc_id=GoogleProductAds&WT.z_mc_id1=03607454&rid=20
Logitech UE 9000 Wireless Headphones
Logitech's new line of UE

headphones

includes the powerful, comfortable, and wireless UE 9000. At $399.99 (direct), it's one of the pricier Bluetooth options we've tested, but it doesn't disappoint from a performance standpoint, offering distortion-free audio with deep bass response. It can also be used as a wired pair—a cable is included—and has a built-in remote for controlling iOS devices and handling phone calls. There aren't too many downsides to the UE 9000 other than its price—$400 is significantly more than some of the most comparable competition.
http://www.pcmag.com/article2/0,2817,2413381,00.asp
CamKix MXV1A Samsung Camera - lens 4-In-1 Camera Lens Kit for Samsung Galaxy Note 3 (Black)
FOUR GREAT ALUMINUM LENSES IN ONE KIT

MINI TRIPOD WITH EXTENDABLE LEGS

TWO DIFFERENT TRIPOD USES

UNIVERSAL PHONE HOLDER CAN BE USED WITH MULTIPLE DEVICES AND MOUNTS

WIDE ANGLE AND MACRO LENSES IN A 2 IN 1 SET
http://www.amazon.com/CamKix-MXV1A-Samsung-Camera-4-In-1/dp/B00GRMXV1A/ref=pd_sim_p_6?ie=UTF8&refRID=1Z4R9XDMYGN1N4QTMPZ5
Ion Audio Phone Station Plus Speakerphone Station for Smartphones
Enjoy handsfree conference calls and music. Turn your iPhone or other Bluetooth smartphone into a high-quality conference call system with Phone Station Plus. Your smartphone.
https://www.google.com/webhp?sourceid=chrome-instant&ion=1&espv=2&ie=UTF-8#q=Crodless+head+phones+for+Cell+Phones&tbm=shop&spd=9181512433431059581
Largus-Cellular QD-7440-CUB Cubic iPhone 4 Case Protective Smooth
iPhone 4
1.5-inch DPF31.5B Portable Digital Photo Display General Features: Color: Black with silver trim 1.5-inch color LCD display Second LCD display showing time – date.
mophie - Juice Pack Powerstation Mini External Battery for Most Mini USB Devices - Black
Keep your Samsung Galaxy S 5 cell phone or mini USB device fully charged with this mophie Juice Pack Powerstation 38675BBR battery that features a slim, compact design for easy portability and a 2500 mAh capacity to deliver reliable, long-lasting power.
http://www.bestbuy.com/site/mophie-juice-pack-powerstation-mini-external-battery-for-most-mini-usb-devices-black/5937328.p?id=1218708012417&skuId=5937328&st=categoryid$abcat0811004&cp=1&lp=15
Bluetooth Keyboard With Leather Case For Samsung Galaxy S4 (S IV)
(Also available for some other phones)
Designed for Samsung Galaxy S4 (S IV).
Full QWERTY plastic keyboard with responsive and comfortable rubber keys for fast data entry.
Dedicated function keys for search, home, email, volume control, etc.
Quick pairing with your smartphone using Bluetooth 3.0 technology.
Energy-saving sleep mode.
Built-in rechargeable lithium battery (can be recharged via the included USB cable).
Indicator lights show charging status and connection status.
PU leather case protects the sides and back of your smartphone from scratches without making it bulky.
With openings for screen display, camera lens, power button, volume button, charger jack and headset jack, which allow easy access to all smartphone functions.
Magnetic flap closure.
Bluetooth keyboard is detachable from the leather case.
http://www.cellphoneshop.net/keybs4case.html
We were wondering how the cell phones of the future would differ from those of today. We didn't have to go far to find some of these concept phones with designs which are radicaly different for the phones available today. Just visit
http://www.hongkiat.com/blog/30-futuristic-phones-we-wish-were-real/ and get ready to see what will be in store for us and our children. One this seems clear, cell phone may be integrated into a number of, shall we say walks of life!
30 Futuristic Phones We Wish Were Real
http://www.hongkiat.com/blog/30-futuristic-phones-we-wish-were-real/
By
Dainis
.
Filed in Inspiration
Mobile phone business is one of the most rapid growing industries. Not so long ago, the popular check phone was Nokia 3310 with mere basic functions: call, text messaging and the only bearable game, snake. However, significant improvement has been made since then. We now have so many variety of phones that surpasses the basic function, smart phones for example allows you to connect to social media conveniently, GPS,
video conferencing
etc.
What will be next?
What we can expect from the next generation of handsets that will be available in the next 10 year? Some of the few features that will be built in new cell
phones
are OLED screen and enhancement in flexibility.
In this article we want to show you a list of creative and interesting futuristic phone concepts.
Kyocera's Flexible, Folding Phone Concept
Kyocera's EOS folding concept
phone
incorporates a flexible OLED screen, changing its form from a clamshell into something resembling a wallet or clutch-purse.
Motorolla Piccolo Concept Phone
The Piccolo Concept 1
cell
phone received its design inspiration by Motorola, bringing a sexy and sleek concept that will definitely appeal to females.
Multimedia Concept Phone
Designer Jakub Lekeš tries to push the limits of phone designing with his concept. This phone has many useful features. A sliding touch screen QWERTY keyboard is concealed under the display and there is a 4.3 megapixel autofocus camera with
digital
zoom support on the back. The most interesting feature is the side of the phone that shows the running track.
LG Traveler Concept Phone
Created by Andrew Zheng, the handset is a thin slider with a touch screen on board and a physical button keypad. The unusual shape of the LG Traveler phone was created for better grip and this aspect gets enhanced. Thanks to rubbers grips on the side.
Eclipse Intuit Phone
Eclipse Intuit phone by Eddie Goh. It has the entire basic feature we've come to expect from our mobiles: powerful 5 megapixel camera with built-in software for editing and uploading pictures to photo album, slide-out touch keyboard with tactile feedback and a nice big touch screen front and center. What makes this concept unique is parts of the phone are made from a chemically based thin solar skin to charge the battery when it's exposed to any kind of light.
The Kambala Ear-Phone
The Kambala is a
mobile phone
that transforms to an earphone as well. Pop the center piece and the earpiece clip pings out; clip this to your ear and you got a phone-earphone! Multilayered Polymer which hosts all the electronic components is used in its construction. A continuous flexi-screen with plenty of sensors makeup the surface and it has the ability to transmit the image on the inside of the phone to the outside.
LG Flutter Concept Phone
The LG Flutter will have an opportunity to be featured in a future blockbuster movie. The device opens up like a fan, as you can see in the image above and has a flexible OLED touch screen display that scrolls radically.
Nanokia
The designer Mac Funamizu drew on the Nokia Aeon to design a phone he would like to have. Complete with Apple's standard livery. Using a nondescript tactile feedback technology, its surface adapts to different purposes while the e-ink screen envelops the phone in graphics and information.
Mobile Script
This phone/laptop packs a small front touch display plus a larger screen on the inside of the handset. The latter can be pulled out and become an even larger display turning the device into a mini laptop. The "
Mobile
Script" mobile phone does not require a power charge. Its case is covered with a nano material, converting the Sun light into the energy for your phone feed.
NEC's "Tag" Phone Concept
An intriguing concept from NEC Design, this Tag Soft-Shell Mobile Phone shows how cumbersome carrying a phone in your pocket can be. Made of rubbery "shape-memorizing" material, the tag will bend and twist at your command.
LG Helix Bracelet Phone
Designer Rob Luna created an LG concept phone called Helix, a device that can also be used as a slap bracelet worn on the owner's wrist. LG Helix comes with flexible circuits, a touch screen display and the concept device is made out of rubber and black stainless steel. You can attach the handset to the belt, through a magnetic charger and use the kinetic energy generated by the user to power up the cell phone.
Motorola Sparrow
Motorola has come up with a new concept of Motorola Sparrow. A concept conceived to provide retail stores with a mobile point of sale device. The Motorola Sparrow is an all-in-one device that combines a scanner, RFID, point of sale (POS) system, communication and credit card reading capabilities. Equipped with touch sensitive areas, the front and back of the Motorola Sparrow makes it easy to navigate and use.
Yuxa From Eco-Friendly Materials
Mexican designer Veronica Eugenia Rodriguez Ortiz created the Yuxa wearable cell phone concept. This is an eco-friendly phone featuring an OLED display and rechargeable battery, plus an innovative means of communication.
Bracelet Phone Concept
Designer Tao Ma has designed an inimitably different concept phone that has got the looks of a bracelet. The shiny gizmo vibrates when you receive a message and you can read the text by taking the bracelet off the wrist and pressing its precious looking keys.
Nokia 888 Mobile Phone
New Nokia concept – Nokia 888. It uses liquid battery, speech recognition, flexible touch screen, touch sensitive body cover which lets it understand and adjust to the environment.
Blue Bee Phone
Another futuristic
smart
phone created by Kingyo. Blue Bee is a very interesting handset interface which is also appealing at the same time.
Relexer Cellphone
Designer Lu Yin has designed a mobile phone called "Relexer". As its name suggest it also function as a medical gadget to review the health of the users.
Integrating
a thermometer that can be worn around the wrist like a bracelet, the cell phone measures the temperature and other drastic discrepancies in the body.
HTC 1
The concept designer Andrew Kim has designed the HTC 1 to be a premium Android device. It is designed to use machined brass to add strength to the phone. Some notable features of the concept include stereo speakers (located at the top and bottom of the phone), a kickstand which is actually the bottom portion of the casing, and the lofty concept of a built-in UV light which kills germs on the surface of the phone while you charge up.
Nokia Morph Cell Phone Concept
The Morph is a concept that demonstrates how future
mobile devices
might be stretchable and flexible, allowing the user to transform their mobile device into radically different shapes. It demonstrates the ultimate functionality that nanotechnology capable of delivering: flexible materials, transparent electronics and self-cleaning surfaces.
Connext Concept
Connext is an all-in-one, flexible smart device designed by James Zhang that can morph its form to fit the application that it assumes. Combining OLED touch-screen technology with E-paper flexibility, this device can switch to become a mobile phone, computer, multimedia player, watch, physical avatar etc.
BenQ Siemens Concept Phone
Latest BenQSiemens's concept phone that wraps around your hand.
LG's Folding Phone
This HiFi concept headset gives us a whole new way of using a cell phone. It's a peculiar touch screen phone which the headset can be wrapped around the head to enjoy music and attend to call even when you are moving around.
Mooon Concept Phone
Mooon concept phone designed by Sunman Kwon has a sleek, big and beautiful touch screen, and of course a camera. What's special about Mooon is that at the bottom of this phone, you'll find a Bluetooth headset, detachable when you need it.
Nokia Kinetic Concept Design
Creative designer Jeremy Innes-Hopkins has an interesting concept phone called the Nokia Kinetic. An electromagnet in the base of the phone allows weight to be shifted which causes the phone to stand up when receiving a call.
LG Exo Smartphone
LG Exo Smartphone designed by Benjamin Lotte is a good-looking phone with a high strength polymer exoskeleton for protecting the delicate internal components. The external skin is made of rubber that enhance ergonomics and increase strength. You can easily change the skin color to the color you desire.
Philips Fluid Flexible Concept
The Philips Fluid Smartphone designed by Brazilian designer Dinard da Mata looks like one of those "Slap Wrap" slap bracelets kids used to wear in the 90s. Flexibility is one thing that makes it differ from conventional smart phones. Made of OLED, it can keep all the features of a smart phone available while adding the extra advantage of turning into a bracelet.
Seabird Concept
Seabird is Mozilla Labs concept phone. The Seabird is a concept phone packed with cool features including integrated Pico Projector that can be used to project a virtual keyboard.
Nagisa Phone Concept
Cool phone concept by Mac Funamizu. This smart phone has some incredible features. The dented keypad that gives the look of a wavy sea bed and the screen is designed in such way that it turns almost 180 degrees.
Glass Phone Concept
Glass phone concept is also created by designer Mac Funamizu.
DYA Phone: A New Concept
This new DYA phone brings a whole new meaning to the world slider. DYA phone has an unique design that uses diagonal cut and become compact when not in use. But it is large enough for any other basic function you need.
http://www.hongkiat.com/blog/30-futuristic-phones-we-wish-were-real/
So there you have it. As always no matter which cell phone and accessories you choose, always be sure to exercise all safety precautions when you unholster that thing. Cell phones have been known to kill. This is Felicity for the "Noodleman Group".
http://www.cagle.com/tag/driving/page/19/
Tell your friends and associates about us!
It's easy! Just copy and paste me into your email!
* "The Noodleman Group" is pleased to announce that we are now carrying a link to the "USA Today" news site. We installed the "widget/gadget" August 20, and it will be carried as a regular feature on our site. Now you can read "Noodleman" and then check in to "USA Today" for all the up to date News, Weather, Sports and more! Just scroll all the way down to the bottom of our site and hit the "USA Today" hyperlinks. Enjoy!