Richfield Tower, also known as the Richfield Oil Company Building, was constructed between 1928 and 1929 and served as theheadquarters of Richfield Oil. It was designed by Stiles O. Clements and featured a black and gold Art Deco façade. The unusual color scheme was meant to symbolize the "black gold" that was Richfield's business. Haig Patigian did the exterior sculptures.[1] The building was covered witharchitectural terra cotta manufactured by Gladding, McBean along with many west coast buildings from this era. In an unusual move, all four sides were covered since they were all visible in the downtown location.
The 12-floor building was 372 feet (113 m) tall, including a 130-foot (40 m) tower atop the building, emblazoned vertically with the name "Richfield". Lighting on the tower was made to simulate an oilwell gusher and the motif was reused at some Richfield service stations.
The company quickly outgrew the building, and it was demolished in 1969, much to the dismay of Los Angeles residents and those interested in architectural preservation, to make way for the present ARCO Plaza skyscraper complex. The elaborate black-and-gold elevator doors were salvaged from the building and now reside in the lobby of the new ARCO building (now City National Tower). (wikipedia.com)
* Special thanks to "Google Images", "waterandpower.org", "wikipedia.com"
and all the other sources noted with photos.
BLOG POST
by Felicity Blaze Noodleman
The age of "Art Deco" was ushered in with
World's Fair (
Exposition
Universal) of 1900
in Paris France
and
the building of the Eiffel Tower along with other buildings for the Fair. Art Deco would continue to evolve and would eventually be recognizes as a style and movement in 1925 at the
Exposition Internationale des Arts Décoratifs et Industriels Modernes which showcased new ideas in the applied arts. Deco was influenced by many of the existing forms of art such as Cubism,
Constructivism

,

Functionalism

,

Modernism

, and

Futurism

.
Los Angeles architecture of the late Nineteenth Century and the early Twentieth Century was predominantly Greeko-Roman and Spanish Renaissance. The columns with their capitals and Gothic imagery as well as their arches would give way to the new Art Deco formats while keeping the same basic rectangle buildings. The exterior of these newer buildings however would Herold a new age in concept and design for Angeleno's and the world.
As the new form of Deco architecture began to influence the world, Los Angeles and Hollywood would embrace Art Deco like no other place, with maybe the exception of Paris. There are so many fine examples of Deco here in Southern California which still survive today, we must celebrate and explore their locations.
Art Deco not only influenced the world of Architecture but also art it self and the design of all areas for commercial industries.

Deco emphasizes

geometric

forms: spheres, polygons, rectangles,

trapezoid

s, zigzags,

chevrons

, and

sunburst

motifs

. Elements are often arranged in

symmetrical

patterns. Modern materials such as

aluminum

,

stainless steel

,

Bakelite

,

chrome

, and plastics are frequently used.

Stained glass

,

inlays

, and

lacquer

are also common. Colors tend to be vivid and high contrast.
In Architecture Art Deco takes advantage of repetition in a "step and repeat" pattern and employs the geometric forms selected like a "boarder treatment" used through out the building. Today we are featuring some of the finest of the finest examples of Art Deco building in the Los Angeles and Hollywood area as we commemorate the age of Art Deco!
Built in the 1930s and declared a city cultural landmark in 1976, this plant is still bottling Coca-Cola today. This Streamline Modern building, located at 1334 South Central Avenue, was completed in 1937 and appears to be sailing down South Central Avenue. The bottling plant is registered as an L.A. historic-cultural monument and boasts portholes and a catwalk. Inside, the nautical theme continues with metal railings, bolted metalwork and doors with portholes.
http://www.coca-colacompany.com/history/historical-landmarks-the-coca-cola-building
Bullock's Wilshire Building (John and Donald Parkinson, architects; Eleanor Lemaire and Jock Peters, interior; Herman Sachs, ceiling mural), 3050 Wilshire Blvd. The building was completed in 1929 as a luxury department store for owner John G. Bullock (owner of the more mainstream Bullock's in Downtown Los Angeles). The exterior is notable for its 241-foot (73 m) tower whose top is sheathed in copper, tarnished green. At one time, the tower peak had a light that could be seen for miles around. Bullocks Wilshire's innovation was that it was one of the first department stores in Los Angeles to cater to the burgeoning automobile culture. It was located in a then-mostly residential district, its objective to attract shoppers who wanted a closer place to shop than Downtown Los Angeles. Traditional display windows faced the sidewalk, but they were decorated to catch the eyes of motorists. Since most customers would arrive by vehicle, the most appealing entrance was placed in the rear. Under the city's first department store porte cochere, valets in livery welcomed patrons and parked their cars.
http://www.tenover6.com/blog/2013/11/fall-inspiration-las-art-deco-gems/
As with the 1926 El Capitan, Morgan, Walls & Clements again worked with G. Albert Lansburgh on the Wiltern Theater project. MW&C did the extraordinary turquoise terracotta clad Pellissier Building, the theatre was Lansburgh's. The theatre, office tower and adjacent retail wings were all exuberantly art deco. The photo is a 1931 Mott Studios of the opening festivities from the California State Library. See the Wiltern Theatre page for more views inside and out. Once slated for the wrecking ball, this landmark at 3900 Wilshire is now a concert venue and restored office and retail space.
http://losangelestheatres.blogspot.com/2013/10/the-pellissier-buildingwiltern-theatre.html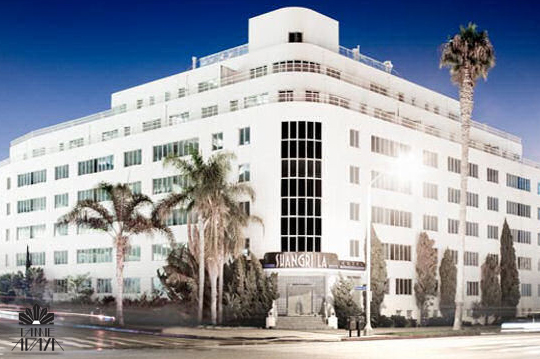 Inspired by the aforementioned Art Deco deities, the Hotel Shangri-La, designed by William Foster, has been overlooking the Pacific since 1939. The Shangri-La is a striking beacon of Art Deco elegance, a chronicle of Old-Hollywood glamour, and a convergence of culture and sensuality.
http://www.huffingtonpost.com/tamie-adaya/los-angeles-art-deco-mecc_b_877844.html
Southern California Edison Company Building (1931), now known as One Bunker Hill.
Originally the home of a utility company, the Southern California Edison Company Building was one of the first all-electrically heated and cooled buildings constructed in the western United States.
The fourteen-story, steel-framed building follows a classically inspired Art Deco design. The lower three stories are of solid limestone, while the upper stories and central tower are faced with buff-colored terra cotta. On the façade, the spandrels contain a cubic Art Deco pattern, repeated in the central tower, lobby floor and elevator ceilings. On the entry façade allegorical figures by sculptor Merrell Gage represent, light, power and hydroelectric energy. In the two-story lobby, classical elements are treated with an Art Deco flavor.
Below the thirty-foot high coffered ceiling, the floor and walls are composed of at least seventeen different types of marble. At the end of the lobby is a mural by Hugo
Ballin
titled "The Apotheosis of Power." The exterior greenhouse-like structures were added in the 1980s and the street-level shopping corridor in 1993.
https://www.laconservancy.org/locations/one-bunker-hill
Los Angeles Main Central Library
The historic Central Library Goodhue building was constructed in 1926 and is a Downtown Los Angeles landmark. The Richard Riordan Central Library complex is the third largest public library in the United States in terms of book and periodical holdings. Originally named the Central Library, the building was first renamed in honor of the longtime president of the Board of Library Commissioners and President of the University of Southern California, Rufus B. von
KleinSmid
. The new wing of Central Library, completed in 1993, was named in honor of former mayor Tom Bradley. The complex (i.e., the original Goodhue building and the Bradley wing) was subsequently renamed in 2001 for former Los Angeles Mayor Richard Riordan, as the Richard Riordan Central Library.
http://hiringlibrarians.com/tag/los-angeles-public-library/
The
Pantages
has a history as grand and diverse as the stage and screen fare which audiences have flocked to enjoy there for half a century. These days it's one of Los Angeles' leading homes of legitimate theatre (the five highest-grossing weeks in L.A.'s theatrical history were all shows at the
Pantages
) and a favorite "location" for
tv
shows, movies and music videos. In the past, it has been a movie house, with live vaudeville acts between features as well as the site of many gala premieres and "spectaculars." For ten years the
Pantages
Theatre was the home of the glittering Academy Awards Presentations.
http://www.discoverlosangeles.com/what-to-do/culture/hollywood-pantages-theatre
The Eastern Columbia Building
was designed by Claud
Beelman
and opened on September 12, 1930, after just nine months of construction. It was built as the new headquarters of the Eastern Outfitting Company and the Columbia Outfitting Company, furniture and clothing stores. With the construction of this lavish structure, the companies could also boast one of the largest buildings constructed in the 1930s.
The building was listed as a Los Angeles Historic-Cultural Monument in 1985.
It is built of steel-reinforced concrete and clad in glossy turquoise terra cotta trimmed with deep blue and gold trim. The building's vertical emphasis is accentuated by deeply recessed bands of paired windows and spandrels with copper panels separated by vertical columns. The façade is decorated with a wealth of motifs—sunburst patterns, geometric shapes, zigzags, chevrons and stylized animal and plant forms. The building is capped with a four-sided clock tower emblazoned with the name "Eastern" in neon and crowned with a central smokestack surrounded by four stylized flying buttresses. The sidewalks surrounding the Broadway and Ninth Street sides of the building are of multi-colored terrazzo laid in a dynamic pattern of zigzags and chevrons. The central main entrance has a spectacular recessed two-story vestibule adorned with a blue and gold terra cotta sunburst. The vestibule originally led to a pedestrian retail arcade running through the center of the building.
http://en.wikipedia.org/wiki/Eastern_Columbia_Building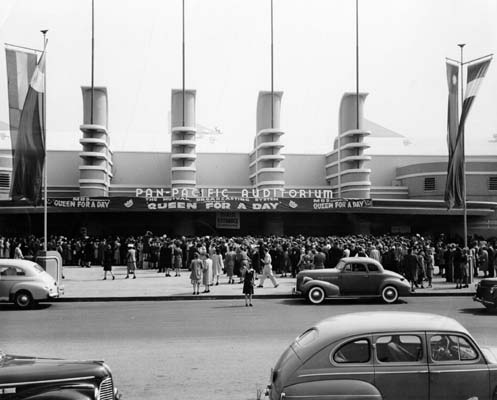 http://guides.latimes.com/southland-sports-venues/#22 (Photo Associated Press)
The
Wurdeman
and Becket-designed Streamline
Moderne
Pan Pacific Auditorium
opened in May 1935. It was home to the Pacific Coast Hockey League team, the Los Angeles Monarchs. For many years it was the premiere indoor sports venue. It closed in 1972. In 1975, the Pan-Pacific appeared
in Funny
Lady (1978) as New York's NBC Studios. In 1978, it was listed in the National Register of Historic Places. It also appeared in
Xandadu
(1980), the
Devo
video "Beautiful World" (1981)
and Miracle
Mile (1988). Long home to squatters, it suffered from neglect and accidental fires started by transients for years until it finally burned down in 1989.
http://www.amoeba.com/blog/2011/05/eric-s-blog/the-fairfax-district-happy-jewish-american-heritage-month-.html
http://www.jasonmoskowitz.com/?page_id=16
The 1939 Streamline
Modern
style
May Company Wilshire
building, future home of The Academy Museum of Motion Pictures.
http://en.wikipedia.org/wiki/May_Company_California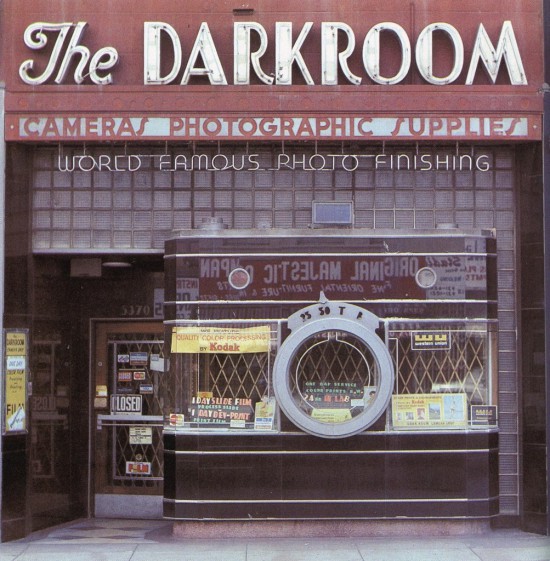 The Darkroom
(5364 Wilshire Blvd.) was once the photographic supply store of choice with a 9-foot tall camera storefront. Built in the early '30s, it is now the home of El Toro Cantina. Digital cameras have nearly
Photoshopped
these places from our main streets — but they live on
on
photographs.
http://www.inherited-values.com/2011/05/vintage-camera-shops/
http://hotelinteriordesigns.eu/top-10-design-hotels-in-los-angeles/
Designed in 1929, the
Sunset Tower Apartments
(as the building originally was named) was the tallest apartment building in Los Angeles when it opened in 1931 and seemed even taller because of its perch on Sunset Boulevard in the hills. At 8358 Sunset Blvd. near Kings, it was built outside the Los Angeles city limits to avoid that city's height restrictions.
http://www.wehoville.com/ever-wonder/
http://findcaliforniacasinos.com/Los_Angeles/hollyparkcasino.htm
The track was opened in 1938 by the
Hollywood Turf Club
the racetrack was designed by noted racetrack architect Arthur Froehlich. Its chairman was Jack Warner of the Warner Bros. film studio. Prominent shareholders included Jack Warner's brother and fellow Warner Bros. executive Harry, Hollywood studio executives Walt Disney, Samuel Goldwyn, Darryl Zanuck, actors Al Jolson, Bing Crosby, Joan
Blondell,George
Jessel
, Ronald Coleman and Ralph Bellamy. In addition to being shareholders film directors Raoul Walsh and
Mervyn
LeRoy were also founding members of the track's Board of Directors with Jack and Harry Warner and Al Jolson.
http://en.wikipedia.org/wiki/Hollywood_Park_Racetrack
Originally the JJ Newberry's 5 and Dime store pictured below:
This Hollywood Boulevard staple has been in business for more than 50 years and supplies the public as well as movie studios with costumes, props, wigs, masks, accessories and more. You'll find a large selection of adult and children's costumes, jewelry, make-up, novelties, hobbies and collectibles.
http://www.timeout.com/los-angeles/shopping/hollywood-toys-costumes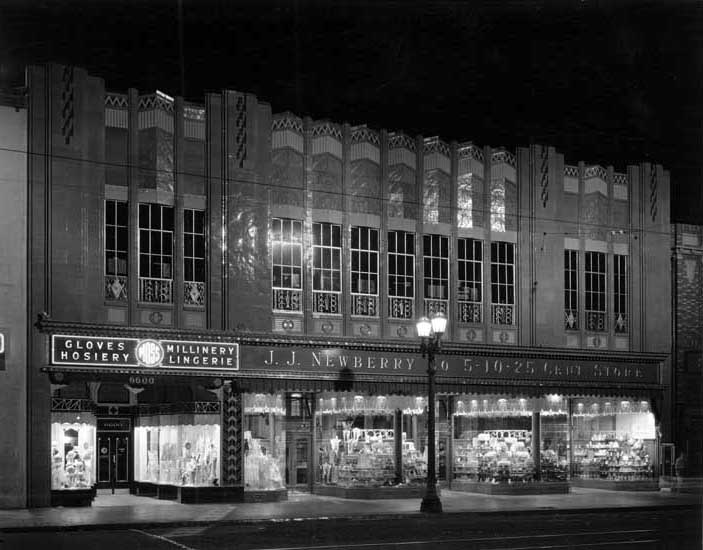 Nighttime view of the J. J. Newberry Co. 5-10-25 Cent Store located at 6600-04 Hollywood Boulevard.
http://waterandpower.org/museum/Early_Views_of_Hollywood_(1920_+).html
Frederick's of Hollywood. This outlandish Art Deco tower was the original flagship store, established in 1946. (For many years, the building was painted a garish purple, but fortunately, it was recently redone in its current, less-flamboyant color scheme.)
Here, can you find musical panties that play "Happy Birthday," to go with the push-up bras. But as you might have guessed, there's more to do inside this Frederick's than just buy provocative lingerie. Yes, believe it or not, tucked away in the back of Frederick's, up a short flight of marble steps, is "The Lingerie Museum," a unique display of historic examples of Frederick's sexy undies. But the real draw here is a section called "The Celebrity Lingerie Hall of Fame," which exhibits a collection of (what else?) underwear worn by Hollywood movie stars!
http://www.seeing-stars.com/Museums/Fredericks.shtml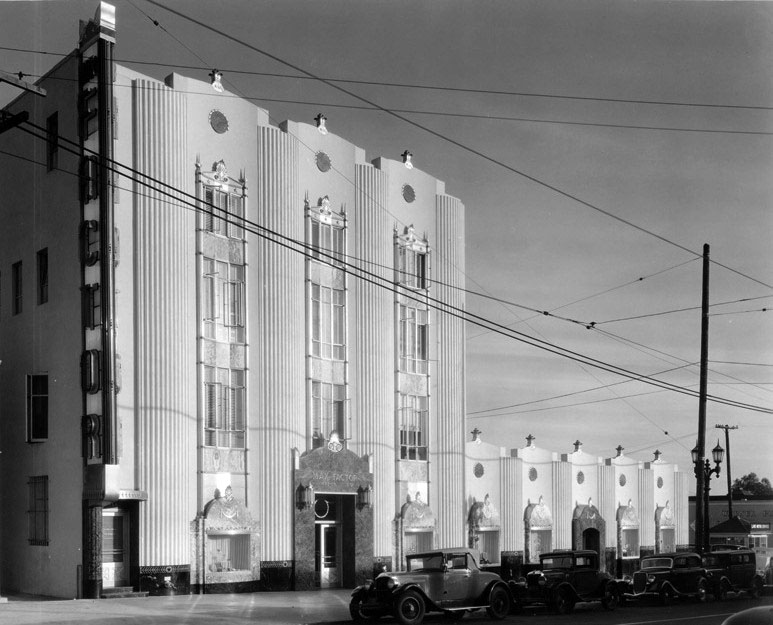 In 1928 Max Factor purchased the four-story Max Factor Building, formerly the Hollywood Fire Safe Building, known as the Jewel Box of the Cosmetic World and began manufacturing his world-famous make up on the upper floors while transforming the ground floor into a grand salon where fashionable women and celebrities came to see and be seen, as well as to purchase his make-up.
Famed architect S. Charles Lee designed the building in the so-called Hollywood regency art deco style. Lee was celebrated for his design of many of the grand motion picture theaters in Los Angeles as well as hotels and other signature buildings in the city and elsewhere in California and in Hollywood.
http://waterandpower.org/museum/Early_Views_of_Hollywood_(1920_+)_Page_4.html
Los Angeles and Hollywood are filled with so many more examples of Art Deco Architecture, many of them are much smaller than those we have visited. Most of these buildings still stand today but a few were damaged by fire and eventually had to be demolished. They all tell the story of their heyday and still bring much pleasure to their surroundings even today. Thanks for joining us.
In conclusion; there were so many fine interior photos available for the buildings we have featured but were unable to post. You may see them for your self by pulling up the web site noted at the end of the captions and going to "Google Images". Some of these interiors are quite spectacular and you may even want to visit these old architectural gems.
This is Felicity writing again and we'll see you next week here at "The Noodleman Group"!
http://www.spurgeonart.com/2011/07/art-deco-los-angeles-value-study.html
Tell your friends and associates about us!
It's easy! Just copy and paste me into your email!
* "The Noodleman Group" is pleased to announce that we are now carrying a link to the "USA Today" news site.We installed the "widget/gadget" August 20, and it will be carried as a regular feature on our site.Now you can read"Noodleman" and then check in to "USA Today" for all the up to date News, Weather, Sports and more!Just scroll all the way down to the bottom of our site and hit the "USA Today" hyperlinks.Enjoy!