All images courtesy of "Google Images" - Titling by Felicity
* Special thanks to "The Washington Post", "CNN", "USA Today",
"Forbes" and "Rasmussen Reports" for their articles and
information contained in this blog.
by Felicity Blaze Noodleman
With less than two weeks until Election Day the Presidential debates have now transpired and we must now deliberate and decide who we want to lead our country for the next four years. I have assembled four news articles which I have collected since the first debate in the early part of October and thru the third and final debate so that we may make some kind of comparison and reflect on our choice for the office of President of the United States.

The publications

chosen are as follows:
1st. Debate
"Two Candidates on Stage, Two Different Ones on Campaign Trail"
"5 Things We Learned From the Presidential Debate"
2nd Debate
"Editorial:

Presidential Debate A Split Decision"
"Who Won the Third Presidential Debate:

Commentary Roundup"
* Rasmussen Reports
Presidential polling data for Presidential job ratings of Barack Obama and the
Presidential race of Obama - Romney.
We will also include the latest popularity poll results for the President and the latest election polls for the presidential race near the end of this article. At the end of the article in the EXTRA section I've included a news article for the "Alfred E Smith Dinner" which occurred before the last debate, 10/18/12 and therefor seems relevant to me as an important event during the debates. Also is a Wikipedia article explaining the dinner and its origins. Thanks for being with us!
The candidates - Obama and Romney at Denver University, Denver, CO
Wednesday Oct. 3, 2012 - debate Domestic Policy.
1st. Debate - Denver University
Presidential debate: Two candidates on stage, two different ones on campaign trail
By

9:17 AM

The Washington Post

,
DENVER — Wednesday's presidential debate was a tale of four candidates: the two men who stood on the stage for 90 minutes and the two rivals Americans have seen for months on the campaign trail and in television commercials. There was no comparison.
Start with President Obama,

who may have lost Wednesday's debate

in as lopsided a manner as any incumbent in recent times. Other incumbents have stumbled in their first reelection campaign debates. Ronald Reagan in 1984 and George W. Bush in 2004 come to mind. Both had bad moments that cost them the debate.
Obama didn't lose because he had a few bad moments. Challenger Mitt Romney dictated both the tone and the tempo of the evening, at times acting as candidate and moderator. Obama fell behind in the opening minutes and never really found his footing. He lacked energy stylistically and he lacked crispness substantively. He sounded like he does in his press conferences, at times discursive and often giving answers that were longer than necessary.
This wasn't the Obama seen in Obama campaign commercials or in the daily scrum with Romney's campaign. His team has waged an extraordinarily aggressive campaign from the moment Romney wrapped up the Republican nomination.
Given his vulnerability due to the state of the economy, Obama and his advisers sought to define Romney before Romney could define himself. It seemed to work. The campaign attacked Romney for

his work at Bain Capital

, for

not releasing his tax returns

, for putting money in a Swiss bank account and in the Cayman Islands.
Obama mentioned none of that on Wednesday night. It was as if he left his campaign's best attack lines in a folder backstage. Inexplicably, he never once mentioned

Romney's "47 percent" comment

— his line that nearly half of all Americans pay no federal income taxes, that they see themselves as victims, that they're dependent on government and unwilling to take personal control of their own lives.
If none of those were worth talking about on Wednesday night, why has Obama's campaign spent the last four months and hundreds of millions of dollars driving home that message? Perhaps his advisers believe they've done all the damage they need do with those attacks. There is evidence that they've stuck. Perhaps the president did not want to project a persona that conflicts with the candidate who captivated the country with a message of hope and inspiration four years ago.
Whatever the case, his performance left Democrats wondering what happened. As one Democratic strategist put it in an e-mail message Thursday morning, "ughhh."
Tad Devine, another Democratic strategist, who was one of Kerry's senior advisers in 2004, sent an e-mail with this assessment of the president's apparent strategy Wednesday night: "I assume they had a strategy not to engage or get too personal. He [Obama] was like he had been in many previous debates, but in these very different times, cool and calm is not as powerful as it once was. They have to recalibrate or risk being pushed aside by the new and improved Romney."
Romney, too, seemed disconnected from the candidate Americans have seen over the past year. On the campaign trail, he is awkward. He is corny and wonky. His stump speech neither soars nor strikes home with real force. Only in debates did he shine during the primaries ,and on Wednesday night he was back on comfortable ground. He knew his brief and he seemed happy to be able to deliver it face to face with the president.
Romney did what he wasn't fully able to do at his convention, which was to make the debate as much about the president's record as possible while giving viewers a better sense of what he would do as president to get the economy moving.
But who was the Romney Americans saw on Wednesday night? This was not the candidate who lurched to the right to win the Republican nomination. This was not the nominee of a Republican Party that is more conservative than it was when conservative icon Reagan was president. This was moderate Mitt from Massachusetts, the turnaround artist with a plan to fix the economy.
As

William A. Galston of the Brookings Institution

put it in a post-election analysis, "Romney presented himself as a reasonable man — neither an extremist nor an ideologue. He calmly rebutted familiar attacks on his proposals. He was clear and forceful, tough but respectful."
But in the aftermath of the debate, Romney will face plenty of questions about his agenda, including the one that the president never forced him to answer on Wednesday. Romney insisted repeatedly that he does not have a $5 trillion tax-cut plan that would favor the wealthy, though independent analysts have said it would.
If that's not his plan, what is his plan? How much would it cost? And just how would he make the math add up? He refuted Obama's criticisms by deflection, not by engagement. He still hasn't said what loopholes and tax expenditures and deductions he would get rid of.
In the hours after the debate, Obama campaign advisers were insistent that they would tear into Romney for what he said and didn't say. Obama failed to make his criticisms stick in person. He'll have two more opportunities in upcoming debates to do so. But the next opportunity will be Vice President Biden's, when he debates Rep. Paul Ryan (Wis.) next Thursday in Kentucky. It's unlikely he'll leave the 47-percent issue backstage.
Both sides believe the contrasts drawn on Wednesday night favor their candidates. Obama's team sees Romney on the wrong side of public opinion on Medicare, on dealing with the deficit and on protecting the middle class. Romney's team argues that Obama is on the wrong side of public opinion in calling for higher taxes, more spending and more regulation. Obama called Romney's economic plan trickle-down; Romney said Obama's plan is "trickle-down government."
Republicans were elated by what happened on Wednesday night. They knew that a bad performance by Romney might have all but doomed his chances of winning the election. Now they see a race joined again. Stuart Stevens, the Romney campaign's chief strategist and
a target of considerable criticism
over the past month, looked particularly pleased as he fielded questions from reporters after the debate.
Stevens has argued for many months that Obama's failure to take ownership of his record would prove to be his biggest obstacle to reelection. He said the debate proved that. "I don't think [Obama] had a particularly bad debate," he said. "He has a bad record."
Stevens said polls show a virtual tie nationally and noted that challengers often don't overtake an incumbent until the very end of the election. Obama advisers stressed that Romney still has a narrow path through the battleground states to win the necessary 270 electoral votes and seemed determined to make that part of whatever new narrative comes out of Wednesday's debate.
Democrats were sobered by the president's performance but believe fundamentals still work in Obama's favor. Stan Greenberg, a Democratic pollster, said Romney's victory was "convincing, but hardly changed the race." He argued that Romney's performance likely would bring some Republican-leaning independents who had been wavering or tilted toward Obama into the former governor's column, but said underlying forces would still help the president.
"That said," he added, "I think the president will have to be much more passionate about the changes he will bring, and bolder. In our dial tests, his best scores were right at the beginning when he laid out four things he would do. People are still looking for what the candidates will do. Obama will have to show much more."
Devine said the effect of the debate is to take away hopes among Democrats that Obama might score a big victory in November and help other Democrats in down-ballot races. "That huge opening may now be lost if Romney makes up ground or, even worse, if it looks like he will win," he said. "People want progress and to turn the page after 11 years of doubt, and last night Romney looked more like the guy who could and would turn that page for them."
"Romney is a top-notch debater and the president had an off night," said Steve Rosenthal, a Democratic strategist with ties to organized labor. "Debates are like speed bumps — you have to slow down to get past them but then you can resume your normal cruising speed. The public is evenly divided and this is going to be a race to the end. Now it's onto the next one, but hopefully last night was a wake-up call to anybody on our side who had grown overconfident or complacent."
It will take some days for the impact of the debate to filter through the electorate. Only then will it become clear whether or how much Wednesday's debate changed things. But for the moment, Romney far exceeded expectations, and for now that has made this a different contest.
5 things we learned from the presidential debate
CNN
By
Peter Hamby
,
Mark Preston
and
Paul Steinhauser
updated 1:57 PM EDT, Thu October 4, 2012
Denver, Colorado (CNN)
-- By most accounts, Republican challenger Mitt Romney was the clear winner of Wednesday's first debate with President Barack Obama. Romney engaged the incumbent while Obama looked down at his lectern. The challenger was a more forceful debater while Obama appeared less than engaged.
Here are five things we learned on Wednesday
1. Romney wins by setting the tone
The crucial and tone-setting first 30 minutes of the debate belonged to Romney.
Romney appeared practiced, at ease, confident and fluent in all things Obama. He aggressively criticized the president's record while also outlining, however vaguely, his own ideas about taxes and the deficit. Obama -- his answers slow, dry and cautious -- looked shaky.
When the sparring turned to taxes -- an issue on which voters trust Obama over Romney, according to polls -- Romney played down legitimate questions about his tax plan and stressed again and again that he wants to reduce taxes on middle income families.
Opinion: Romney shakes up the race
He seized on Vice President Joe Biden's latest verbal miscue about how the middle class has been "buried" by the policies of the last four years.
"Under the president's policies, middle-income Americans have been buried," Romney said. "They're just being crushed. Middle income Americans have seen their income come down by $4,300. This is a tax in and of itself. I'll call it the economy tax. It's been crushing."
Obama had a chance to brush his opponent back by hammering home the fact that Romney has been strikingly vague in explaining just how he would pay for an across the board 20% tax cut without cutting cherished tax deductions.
Fact Check: Does repealing Obamacare hike seniors' drug costs?
Instead, a lethargic Obama veered into a plodding, numbers-based criticism of Romney's tax plan that was a far cry from his campaign trail rallying cries about how Republicans favor the rich.
Obama's performance in the first part of the debate called to mind a segment on "The Daily Show" in the early days of the Obama administration, when Jon Stewart teased the newly burdened president's press conferences as boring and uninspiring -- a far cry from the inspirational figure of 2008.
Romney entered the encounter with Obama battered, weary and under fire from his fellow Republicans. At the end of the night, he stood on equal footing in a 90-minute debate with the president of the United States. That's a win.
Candidates hit campaign trail after Romney's strong debate
It was the biggest question coming into this first showdown: Could Romney seem presidential standing next to the Obama?
The answer appears to be yes.
"He held his own against the president of the United States, and for a Republican challenger that's pretty good," commented CNN's Wolf Blitzer, chief anchor of the network's political coverage.
"Romney at least held his own on the big questions: On the economy and the role of government," added CNN Chief National Correspondent John King. "When you're the challenger and you at least hold your own with the president of the United States in the very first debate, you walk off the stage happy."
Opinion: It wasn't just Romney who won
Romney's campaign was thrilled with its candidate's performance.
"If it was a boxing match, it would have been called," said Eric Fehrnstrom, a senior adviser to the former Massachusetts governor. "I've got to believe that the heels on the president's shoes are worn down from being back on them for 90 minutes."
As you can imagine, the Obama campaign saw the debate very differently.
"(Romney) was on defense all night long," said David Plouffe, a senior adviser to the president.
It appears debate watchers think Romney passed the test every challenger faces in trying to stand with an incumbent president. According to a CNN/ORC International poll conducted right after the session, 67% of debate watchers questioned said that Romney won. One in four said Obama was victorious.
Heading into the debate, there was a belief, an expectation that Obama would challenge Romney on the infamous 47% remark in an attempt to paint the former Massachusetts governor as a cold-hearted patrician with little empathy for the middle class and poor. If executed correctly, it could have put Romney on defense and changed the tenor of the debate.
Obama didn't do it, which turned out to be a major mistake.
Nor did the president question Romney on why he wouldn't release more details about his taxes. Another opportunity lost in an effort to try and portray Romney as being an out-of-touch elitist.
Obama's failure to take the fight to Romney and the challenger's ability to dictate the tone and speed of the debate helped Romney win.
Opinion: Romney wasn't stellar, Obama fell short
The narrative heading into the evening was that Romney's campaign was listing and in serious need of a win. To Romney's credit, he never blamed his staff for problems that beset his campaign over the past few weeks and he was the one who righted the ship.
Romney made the case that he was in the race to help the middle class at the same time advocating a government that was more business friendly. Romney's repeated references to business -- particularly his pledge to help small businesses -- opened a door for Obama to bring in the former Massachusetts governor's time at Bain Capital. It was never brought up.
Romney's strong performance comes at a critical time as conservatives have been openly criticizing his campaign and poll numbers in key battleground states such as Ohio were trending toward Obama.
Romney played offense, while Obama was forced to play defense. With 33 days until Election Day -- you don't want to be on defense.
At crossroads of economic crisis, debate disappoints
Sometimes how a candidate looks is more important than what he says.
That may have been the case in the first presidential debate, in which Romney often looked more at ease than Obama. When speaking, Romney often looked directly at Obama, while the president mainly looked at the moderator or the cameras when he was speaking. And Obama looked down quite often while Romney was speaking.
"The president could barely look at Mitt Romney, which was interesting. He really wouldn't engage with him, where as Romney would take the president on, on every issue." said CNN Chief Political Analyst Gloria Borger.
While Romney's body language seemed energetic, the president's body language was just the opposite. He seemed a bit irritated.
Fact Check: Job creation versus unemployment
"I don't think anyone's ever spoken to him like that over the last four years. I think he found that not only surprising but offensive. It looked like he was angry at times," added CNN Senior Political Analyst David Gergen, who has advised both Democratic and Republican presidents.
While Romney took part in nearly 20 GOP primary debates this cycle, Obama has not participated in a debate in four years. And it showed.
"Participating in so many Republican primary debates helped Mitt Romney. He was, right from the beginning, more comfortable debating. The president was rusty as a debater. He hasn't done this in four years." King said.
Senior Obama campaign advisers disagreed, saying that it was Romney who appeared ill at ease.
"People at home saw (Romney) get testy, interrupt the moderator," Obama campaign deputy communications director Stephanie Cutter told CNN.
"My thought is that you're going to find that people watching at home thought he was quite testy," Plouffe added.
Read the transcript of the first presidential debate
5. Chris Christie vindicated
New Jersey Gov. Chris Christie bothered the heck out of Romney-world last Sunday when he shirked the expectations game and stated flatly that the GOP nominee would deliver an earthquake of debate performance that would turn the presidential race "upside down."
Not on message in the slightest. But it turns out Christie might have been right.
In the post-debate spin room, the very same Romney backers who were hyper-cautious heading into Wednesday night's debate were suddenly sounding a lot like Christie.
"Chris Christie is quite the prognosticator," said Romney adviser Eric Fehrnstrom.
Fact Check: Oil and natural gas production under Obama
South Dakota Sen. John Thune said Romney assuaged the Republican concerns about his candidacy -- and then some.
"I think this was a make or break moment for the Romney campaign and he delivered," Thune told reporters. "This is a whole new ball game."
One high-ranking Romney adviser also acknowledged what no one on their team would admit prior the debate: That a poor showing Wednesday could have derailed Romney's candidacy.
"We needed a big performance and we got a big performance," the adviser told CNN. "There's a lot of relief right now."
After the debate concluded, Christie adviser Bill Palatucci made sure to plug his boss.
"Only Chris Christie had the guts to say what he really thought -- that Mitt would shine," Palatucci told CNN in an email.
CNN
The Candidates debate - split screen view - Thursday Oct 16, 2012 in
"Town Meeting" format - Hofstra University - Hempstead, NY.
2nd Debate - Hofstra University
Editorial: 2nd presidential debate a split decision
USA Today
The Editorial Board
A more forceful Obama and a well-prepared Romney square off at Hofstra.
Story Highlights
Romney continued to undermine the Democratic strategy of casting him as a dangerous extremist.

Obama delivered a forceful, presidential performance that sometimes dominated the stage.

Neither addressed key "fiscal cliff" tax and spending decisions that the winner will confront early in the next term.
12:46AM EDT October 17. 2012 -

In the annals of presidential debates, the town hall sessions have typically been a refreshing change of pace.
OTHER VIEWS:
Call it a tie
They tend to be less scripted than those run entirely by journalists, sometimes venturing into unforeseen territory. They also make it harder for candidates to take the questions simply as cues to launch into memorized monologues or harsh attacks on their opponents.
After a ragged start, Tuesday's town hall debate in Hempstead, N.Y., featuring questions from uncommitted voters, proved no exception. Initially, the voters' role was overshadowed by moderator Candy Crowley's follow-ups and extended, combative exchanges between President Obama and Republican challenger Mitt Romney on education, energy costs and middle-class tax cuts. But as the debate went on, it settled into an exchange that presented a contrast of ideas that viewers could absorb more easily than they did the statistics-laden first debate.
As for who won, it could be looked at in a variety of ways.
Mostly obviously, Romney's perfomance continued to undermine the Democratic strategy of casting him as a dangerous extremist. As in the first debate, the former Massachusetts governor presented himself as reasonable and focused on the audience's concerns, and particularly the insecurity brought on by a sluggish economy.
But unlike the first debate, this was no clear-cut Romney win. In fact, after the first 30 minutes, Obama -- so lackluster in the first debate -- delivered a forceful, presidential performance that sometimes dominated the stage. The apex came in response to a question about why requests for added security at the American mission had been denied before the deaths of four diplomats, an issue Romney has been trying to capitalize on for weeks. Without directly answering the security-denial question, Obama forcefully said the responsibility was his. He then attacked Romney for suggesting that he -- as president -- would play politics with American lives at stake, angrily calling it offensive and leaving Romney with no effective response.
In the end, each candidate achieved what he needed to do, with early reaction suggesting either a split decision or an Obama win. Political activists and national journalists on Twitter, who almost universally saw a Romney win in the first debate, were divided this time, as was wider commentary. Instant polls by CBS and CNN both found an Obama victory by 7 points.
So much for style points and flash reactions.
As for substance, the economy remained the dominant issue, and here the candidates continued to fall short on specifics. Both pitched more middle-class tax cuts without acknowledging the need to raise more revenue to reduce deficits. Neither addressed key "fiscal cliff" tax and spending decisions that the winner will confront early in the next term.
With the candidates ducking the tough choices and polls showing a tight contest, many voters regard the debates as chances to see how comfortable each candidate is in his own skin and how well each can relate to voters' concerns. Tuesday's debate, coming three weeks before the election, provided ample opportunity to take that measure.
USA Today
Boca Raton, FL - Debate "Foreign Policy". The candidates
with moderator, CBS's Bob Scheffer.
Monday Oct. 22, 2012 at Lynn University - third and final debate.
This photo really resembles our cartoon at the end of the article!
3ird Debate - Lynn University
Who Won The Third Presidential Debate: Commentary Roundup
Forbes
Leadership

|

10/23/2012 @ 12:24PM
Susan Adams, Forbes Staff

I cover careers, jobs and every aspect of leadership.
How do you score a debate when the candidates agreed on almost everything? At least when they stuck to the subject of the night, foreign policy, Mitt Romney and

Barack Obama

demonstrated few differences at their third and final debate, at

Lynn University

in Boca Raton. That left commentators to view the debate through their own pro-Romney or pro-Obama lenses. The post-debate critiques are falling largely along partisan lines, with Obama supporters seeing the President's performance as forceful and compelling and the pro-Romney camp viewing their candidate as steady, strong and appealing to voters.
Here at

Forbes

,

Leadership

Editor Fred Allen

writes

that the president emerged the victor because he seemed relaxed, in command and clear in his explications of the administration's policies. Fred also thinks that Obama's one-liners were effective, like his response to Romney on one of the few foreign policy differences between the two candidates. When Romney criticized Obama for allowing the navy to operate with fewer ships than it had in 1916, the President responded that "we also have fewer horses and bayonets." Also, writes Fred, when Romney described the many problems overseas and America's weakness at home, he may have lost points, rather than scored them, with his negative message.
Forbes

'

John Tamny

, a conservative,

calls

the debate a victory for Obama, because the president seemed reasonable and confident and scored points in part because Romney agreed with so many of the administration's policies in places like Iran, Israel, Afghanistan and Syria. But Tamny believes Obama's win was pyrrrhic, because the election is really about the economy at home, and on that subject, he believes Romney remains much stronger.
Obama Vs. Romney On Foreign Policy In Final Debate
U.S. President Barack Obama (R) debates with Republican presidential candidate Mitt Romney as moderator Bob Schieffer listens at the Keith C. and Elaine Johnson Wold Performing Arts Center at Lynn University on October 22, 2012 in Boca Raton, Florida. The focus for the final presidential debate before Election Day on November 6 is foreign policy.
Another intriguing piece here at

Forbes

: communications coach

Carol Kinsey Goman

's

assessment

of who won the debate in terms of body language. I don't know what Goman's political proclivities are, but she scores last night for Obama, writing that the president "had the best combination of likeability and command cues," while his challenger perspired, swallowed frequently, licked his lips, stammered and even gave a slight shudder, which all showed that he was under a great deal of stress. By contrast, Obama used palm-down gestures, signaling certainty and flashed his "great genuine smile," a sign of his likeability.
On the editorial pages,

The Wall Street Journal

says

Romney won this debate, not because he scored so well on foreign policy, but because he was able to steer the talk back to domestic policy, the struggling economy, ballooning debt and his ideas for how he would stimulate growth over the next four years. On foreign policy, the evening's subject, the

Journal

says Romney held his own and Obama failed to make him look "wrong and reckless." The

Journal

also notes that Obama may have scored more debating points with his jabs and one-liners, "but he looked smaller doing it." At the same time, the

Journal

wishes Romney had been more hawkish, writing that the situation in Syria may wind up requiring U.S. military intervention.
Move up http://i.forbesimg.com tMove down
The New York Times

sees

Obama as the clear winner last night, and criticizes Romney for having "no original ideas of substance on most world issues, including Syria, Iran and Afghanistan." Writes the Times, "At his worst, Mr. Romney sounded like a beauty pageant contestant groping for an answer to the final question." The

Times

also praises the president for calling Romney's claim that Obama went on an "apology tour" of the Middle East soon after taking office, "the biggest whopper" of the campaign.
Elsewhere, the commentary is hewing mostly to political fault lines, with several commentators at the

National Review

, and Charles Krauthammer of Fox News, all saying that Romney won the debate. The

Review

has more than a half dozen stories calling Romney the victor, from Jonah Goldberg, who

writes

that Romney appeared presidential and got in some good lines on the economy, to Jim Geraghty, who

says

that while Romney's answers seemed geared to please focus groups, Obama's horses and bayonets quip was "snippy and sneering," and won't go down well with voters. One piece at the

Review

, by Yual Levin,

gives

the debate to Obama on points, but says that Romney came out ahead because his goal was to seem presidential and he did that, answering every question "with a calm, responsible attitude [that] convey[ed] sobriety and level-headedness."
Over at Fox, Charles Krauthammer

writes

that "Romney won unequivocally" because he demonstrated he "knows every area of the globe," and could talk about each region with impressive details, like the threat of the Haqqani network in Pakistan. Aside from the details, Krauthammer thinks Romney was smart to frame the contest for the presidency as a big picture struggle about how America is perceived in the world. Krauthammer liked it when Romney accused Obama of going on an "apology tour" in the Middle East, and praises Romney's line about how the U.S. doesn't dictate to other nations, "we liberate them."
From the liberal perspective, Obama won the debate hands down. At

Time

, Joe Klein

says

Obama performed better on both style and substance, writing that Romney seemed nervous, scattered and unconvincing, while agreeing with the president on almost every foreign policy issue aside from military spending. Klein writes that Obama was not only strong but clever, mentioning Israel three times as America's greatest ally in the Middle East. Klein feels that Obama's zingers, the horses and bayonets quote and his comment about Romney favoring the "foreign policy of the '80s, the social policy of the '50s and the economic policy of the '20s," though "precooked," were effective.
At

The Washington Post

, Eugene Robinson also

gives

the debate to Obama, praising the president's decision to highlight Romney's flip flops, including Romney's earlier stance on whether the U.S. should have pressed to oust Libyan dictator Moammar Gaddafi (Romney had called it "mission creep"). Robinson also notes that Romney's decision to agree with Obama on almost every major policy decision, from Afghanistan to Syria to pilotless drones, was a plus for Obama. Robinson also notes Romney's "one big flub," when he said that Syria was Iran's "outlet to the sea." Of course the two countries don't share a border and Iran has a thousand miles of coastline.
What will voters think of this debate, and will it make a difference to the election's outcome? A CNN/ORC International

snap poll

showed 48% of voters saying Obama won the debate and 40% saying Romney was the victor. But perhaps the more important number is what respondents said about how the debate will affect their plans at the polls. Half said it won't matter, while 25% said they were more likely to vote for Romney and 24% said they were more likely to vote for Obama. In other words, the debate didn't change anything in this very close election.
My take? As I have written before, I am an Obama supporter, and like other pro-Obama commentators, I score this debate for the president. I don't think Romney bombed, but to me, he seemed unsteady and flustered, often dodging moderator Bob Schieffer's questions and instead painting a negative picture of the "tumult" all over the Middle East, implying that it is the president's fault that there are violent extremist groups in places like Pakistan and Libya. As my colleague Fred Allen writes, I don't think that negative message goes over well with voters. By contrast, I thought the president was direct, confident and forceful in his articulation of the administration's policies, from pulling out of Iraq to his actions after the tragic assassination in Libya. Though I understand how conservative commentators could see it as disrespectful and condescending, I thought one of Obama's best lines came when he interjected, "I know you haven't been in a position to actually execute foreign policy."
Forbes
Daily Presidential Tracking Poll
Rasmussen
The Rasmussen Reports daily Presidential Tracking Poll for Friday shows Mitt Romney attracting support from 50% of voters nationwide, while President Obama earns the vote from 47%. One percent (1%) prefers some other candidate, and two percent (2%) are undecided. This is the fourth consecutive day that Romney has been at the 50% level of support. He has enjoyed a three- or four-point edge on each of those days. See daily tracking history.
These Presidential Tracking Poll updates are based upon nightly telephone interviews and reported on a three-day rolling average basis. As a result, today is the first update based entirely upon interviews conducted after the final presidential debate.
It's now clear that Romney gained ground over the three debates. Heading into the first debate, the president was ahead of Romney or tied every single day in the tracking poll for two full weeks. Now, looking back over the past three weeks of daily tracking, the president has had the advantage just once. On the morning of the first debate, it was Obama 49% Romney 47%.
Heading into the second and third debates, Romney was up by a 49% to 47% margin. Forty-nine percent (49%) of Likely Voters believe Romney won the debate season, while 41% think Obama won.
Matchup results are updated daily at 9:30 a.m. Eastern (sign up for free daily e-mail update).
In Election 2000, Florida was the decisive state in the Electoral College. In 2004, Ohio was the ultimate battleground state that put George W. Bush over the top. Scott Rasmussen suggests in his weekly newspaper column that Wisconsin May Be the New Ohio this year.
The Rasmussen Reports Electoral College projections show the president with 237 Electoral Votes and Romney 235. The magic number needed to win the White House is 270. Seven states with 66 Electoral College votes remain Toss-ups: Colorado, Iowa, Nevada, New Hampshire, Ohio, Virginia, and Wisconsin.
New polling from Virginia shows Romney clinging to a two-point advantage. The president is up five in Pennsylvania, while Romney is up eight in Arizona. In the swing state of New Hampshire, Romney is up two, while the president has the edge in Nevada. In Ohio, the candidates are now tied at 48% apiece. New data will be released later today for Wisconsin and Florida.
The Pennsylvania Senate race is now a surprising Toss-Up. The Rasmussen Reports Senate Balance of Power rankings project that Democrats will end up with 47 Senate seats, the Republicans 47. These totals include four states leaning towards the Democrats and four leaning to the GOP. Other than Pennsylvania, there are five remaining Toss-Ups: Connecticut, Massachusetts, Montana, Virginia and Wisconsin.
The economy, the debates and the Electoral College were the topics on this week's edition of What America Thinks. Scott Rasmussen's new weekly television show is seen on more than 60 stations nationwide. If you'd like Scott to speak to your organization, meeting or conference, please contact Premiere Speakers.
(Presidential Job Approval Data Below)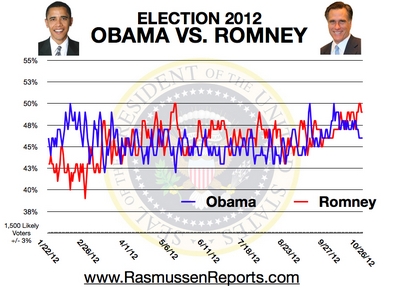 A president's job approval rating is one of the best indicators for assessing his chances of reelection. Typically, the president's job approval rating on Election Day will be close to the share of the vote he receives. Currently, 48% of voters say they at least somewhat approve of the president's job performance. Fifty-one percent (51%) at least somewhat disapprove (see trends).
Thirty-seven percent (37%) of voters believe the nation is currently heading in the right direction.
The housing market is looking a little stronger. Fifty-five percent (55%) of homeowners now believe their home is worth more than the mortgage.
Rasmussen Reports is a media company whose work is followed by millions on a wide variety of platforms. In addition to the new TV show, we regularly release our work at RasmussenReports.com, through a daily email newsletter, a nationally syndicated radio news service, an online video service and a weekly newspaper column distributed by Creators Syndicate.
Rasmussen Reports polling tends to show less volatility than other polls for a variety of reasons. In 2008, we showed virtually no change during the final 40 days of the campaign. Then-candidate Obama was between 50% and 52% in our polling every single day. He generally held a five- or six-point lead, occasionally bouncing up to an eight-point advantage and only once falling below a four point-lead. This stable assessment of the race is consistent with the reality of what we know about voter behavior. Obama won the election by a 53% to 46% margin.
To get a sense of longer-term Job Approval trends for the president, Rasmussen Reports compiles our tracking data on a full month-by-month basis.
(Approval Index data below)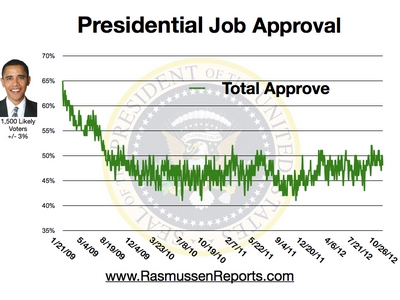 Intensity of support or opposition can have an impact on campaigns. Currently, 30% of the nation's voters Strongly Approve of the way Obama is performing as president. Forty-two percent (42%) Strongly Disapprove, giving him a Presidential Approval Index rating of -12 (see trends).
Platinum Members can review additional information from the tracking poll on a daily basis.
During midterm elections, intensity of support can have a tremendous impact on turnout. That was demonstrated in 2010 when Republicans and unaffiliated voters turned out in large numbers to express opposition to the Obama administration's policies. However, in presidential election years, there is a smaller impact on turnout. Still, all indications so far for Election 2012 suggest that Republicans are more engaged and more likely to turn out.
(More below)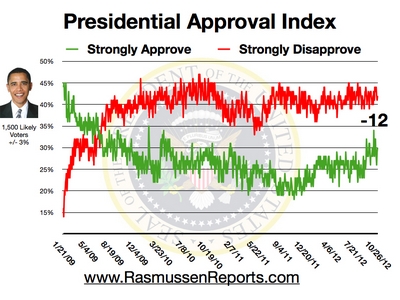 Rasmussen Reports has been a pioneer in the use of automated telephone polling techniques, but many other firms still utilize their own operator-assisted technology (see methodology). Pollsters for Presidents Jimmy Carter and Bill Clinton have cited our "unchallenged record for both integrity and accuracy." During Election 2008, Rasmussen Reports projected that Barack Obama would defeat John McCain by a 52% to 46% margin. Obama was 53% to 46%. In 2004, Rasmussen Reports was the only firm to project the vote totals for both candidates within half a percentage point. Learn more about the Rasmussen Reports track record over the years.
Daily tracking results are collected via telephone surveys of 500 likely voters per night and reported on a three-day rolling average basis. To reach those who have abandoned traditional landline telephones, Rasmussen Reports uses an online survey tool to interview randomly selected participants from a demographically diverse panel. The margin of sampling error for the full sample of 1,500 Likely Voters is +/- 3 percentage points with a 95% level of confidence. Results are also compiled on a full-week basis and crosstabs for full-week results are available for Platinum Members.

They're going the distance but the fight isn't over until the votes are counted
Obama and Romney in attendance at the Alfred E. Smith dinner, the
Catholic Archdiocese of New York's annual charity benefit that every
four years hosts the presidential candidates for a lighthearted break
from the grueling campaign.
Obama, Romney roast each other at Alfred E. Smith Dinner
NEW YORK — Two nights after
one of the most contentious debates
in modern presidential history, President Obama and Mitt Romney put aside their political differences on Thursday night to trade jokes and playfully roast each other.
Dressed in white tie at a glittering dinner in midtown Manhattan, the two men delivered speeches at the Alfred E. Smith Dinner, the Catholic Archdiocese of New York's annual charity benefit that every four years hosts the presidential candidates for a lighthearted break from the grueling campaign."This is the third time that Governor Romney and I have met recently," Obama said. "Some of you may have noticed, I had a lot more energy in our second debate. I felt really well rested after the nice long nap I had in the first debate."
Romney, sitting with
his wife Ann
a couple seats down on the dais at the Waldorf-Astoria hotel, laughed. "It's taken New York's highest spiritual authority to get us back on our best behavior," Romney quipped.
The Republican nominee began his roast by making light of his stiff persona.
"A campaign can require a lot of wardrobe changes — blue jeans in the morning, perhaps, suits for a lunch fundraiser, sport coat for dinner — but it's nice to finally relax and wear what Ann and I wear around the house," Romney said.
And he singled out New York Gov. Andrew Cuomo, also seated at the dais, with a joking reference to his own political resume. Cuomo, he said, is "already being talked about for higher office. A very impressive fellow, but he may be getting a little ahead of himself. I mean, let me get this straight: The man has put in one term as a governor, he has a father who happened to be a governor and he thinks that's enough to run for president?"
But Romney seemed to aim more of his humor at the president than at himself. "Of course, we're down to the final months of the president's term. As President Obama surveys the Waldorf banquet room with everybody in white tie and finery you have to wonder what he's thinking: 'So little time, so much to redistribute.'"
Romney added that he and Obama are both "very lucky to have one person who's always in our corner, someone who we can lean on and someone who is a comforting presence without whom we wouldn't be able to go another day. I have my beautiful wife, Ann; he has
Bill Clinton
."
And Romney took a shot at the press, joking that he had "already seen early reports from tonight's dinner. Headline: 'Obama Embraced by Catholics, Romney Dines with Rich People.'"
Obama, following Romney at the podium, began his roast by asking everyone to "please take their seats. Otherwise
Clint Eastwood will yell
at them."
The president twice made light of his
performance in the first debate on Oct. 3
, which was also his and Michelle's wedding anniversary. "There are worse things that can happen to you on your anniversary than forgetting to buy a gift," Obama quipped.
But he offered a preview of the third debate. "Monday's debate is a little bit different because the topic is foreign policy," Obama said. "Spoiler alert: We got Bin Laden."
Noting that "Mitt" is actually Romney's middle name, Obama said, "I wish I could use my middle name." (The president's middle name is Hussein.)
Obama took some shots at his rival, too, saying, "Earlier today I went shopping at some stores in Midtown. I understand Governor Romney went shopping for some stores in Midtown."
And the president made light of Romney's
tumultuous overseas trip this summer
, in which the Republican angered the British people by questioning London's readiness to host the Olympics.
"Of course, world affairs are a challenge for every candidate," Obama said. "After my foreign trip in 2008, I was attacked as a celebrity because I was so popular with our allies overseas. And I have to say, I'm impressed with how well Governor Romney has avoided that problem." At that, Obama looked over to make eye contact with Romney and the two laughed.
Both candidates used
Vice President Biden
as a punching bag. Obama remarked how much had changed since he first addressed this dinner in 2008. "I've heard some people say, 'Barack, you're not as young as you used to be. Where's that golden smile? Where's that pep in your step?' And I say, 'Settle down, Joe, I'm trying to run a cabinet meeting.'"
Al Smith IV, the great-grandson of the dinner's namesake, who was a former New York governor and the first Catholic nominated for president, shared some jokes of his own while introducing Obama and Romney. Acknowledging the women in the room, Smith referenced Romney's controversial remark in Tuesday night's debate by saying, "It's good to see who's getting out of those binders."
Later, Smith congratulated Romney for giving more than 10 percent of his income to charity. But, he joked, "the charity is the federal government."
He took a shot at Obama, too. "We recognize that you have some challenges this year. It's never good when your opponent has produced more sons than you have jobs."

Smith also poked fun at Cardinal Timothy Dolan, the archbishop of New York and a man of considerable girth, who sat between the two candidates. He joked that they were separated by a "vast expanse."
Alfred E. Smith Memorial Foundation Dinner
From Wikipedia, the free encyclopedia
Jump to:
navigation
,
search
The Alfred E. Smith Memorial Foundation Dinner is an annual
white tie
charity fundraiser for Catholic charities, held at the
Waldorf-Astoria Hotel
in New York on the third Thursday of October. It is organized by the
Alfred E. Smith Memorial Foundation
in honor of former New York Governor
Al Smith
, the first Catholic presidential candidate.

The first dinner was in 1945, the year after Al Smith's death. The 2008 dinner raised $3.9 million.
Since 1960 (when
Richard Nixon
and
John F. Kennedy
were speakers), it has been a stop for the two main presidential candidates during several U.S. election years.

In 1976,
Gerald Ford
and
Jimmy Carter
spoke; in 1980, Carter and
Ronald Reagan
; in 1988,
Michael Dukakis
and
George H.W. Bush
; in 2000,
Al Gore
and
George W. Bush
; in 2008,
John McCain
and
Barack Obama
; and in 2012, Barack Obama and
Mitt Romney
. Since 1945, only two presidents have not spoken at the dinner: Harry Truman and Bill Clinton. Candidates have traditionally given humorous speeches poking fun at themselves and their opponents, making the event similar to a
roast
.

It is generally the last event at which the two candidates share a stage before the election.
Al Smith
From Wikipedia, the free encyclopedia
(Redirected from
Alfred E. Smith
)

As a committed "wet" (anti-Prohibition candidate), he attracted millions of voters of all backgrounds, particularly those concerned about the corruption and lawlessness brought about by the
Eighteenth Amendment
.

However, he was unpopular among certain segments, including Southern Baptists and German Lutherans, who believed the Catholic Church and the Pope would dictate his policies. Most importantly, this was a time of national prosperity under a Republican Presidency and Smith lost in a landslide to Republican
Herbert Hoover
. Smith attempted the 1932 nomination but was defeated by his former ally and successor as New York Governor
Franklin D. Roosevelt
. Smith entered business in New York City and became an increasingly vocal opponent of Roosevelt's
New Deal
.
Wikipedia
* "The Noodleman Group" is pleased to announce that we are now carrying a link to the "USA Today" news site.We installed the "widget/gadget" August 20, and it will be carried as a regular feature on our site.Now you can read"Noodleman" and then check in to "USA Today" for all the up to date News, Weather, Sports and more!Just scroll all the way down to the bottom of our site and hit the "USA Today" hyperlinks.Enjoy!
The Noodleman Group is on Google Blogger!